The Board of Selectmen will meet on Wednesday, August 17, 2022 at 6pm.
The Board of Selectmen meet the 1st and 3rd Wednesday of the month at 6pm, 23 High St. Meetings are open to the public.
Town Clerk/Tax Collector hours 768-5448
Monday
12-6
Tuesday
12-7
Wednesday
11-6
Thursday
9-3
Friday
Closed
3rd Sat of Month
9-12
TOWN CLERK & TAX COLLECTOR SERVICES NOW AVAILABLE ONLINE
---
Payments can be made online with a checking account.
Board of Selectmen, Budget Committee & Planning Board Minutes
Calendar
POLICE CHIEF APPOINTMENT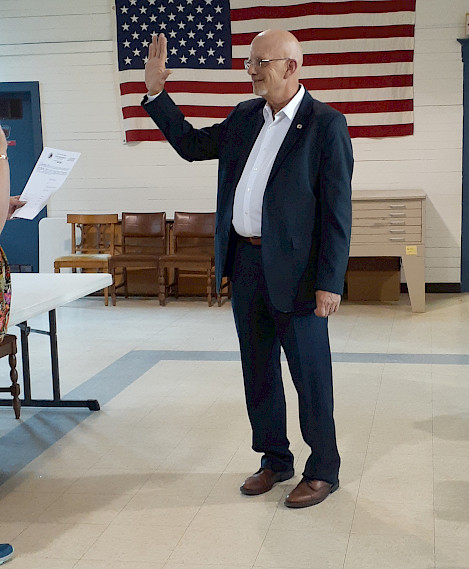 The Danbury Board of Selectmen is pleased to announce the appointment of Christopher Warn as the
Town's new part time Police Chief. Chief Warn was sworn in on Tuesday, July 26, 2022, by Board Chair,
Jessica Hatch.
With approximately 40 years of experience working in New Hampshire law enforcement,
Chief Warn brings a uniquely diverse background that bridges public service, criminal justice, and
education as a veteran police chief, investigator, prosecutor, and educator.
He served as Police Chief in Campton, New Hampshire for 21 years before his retirement in 2020.
In addition to his experience as a police officer and police chief, Chief Warn is currently a teaching lecturer at Plymouth State College and has taught classes at New Hampshire Police Standards and Training.
"I am humbled and honored by the Board's decision to entrust me with this awesome responsibility," said Chief Warn. " I look forward to meeting the residents, visitors and working with Sgt. Marvin and Administrative Assistant Huntoon."
Chief Warn replaces long time Chief David Suckling whose elected term expired on March 13, 2022.
2022-2026 CYCLICAL REVALUATION BEGINS
COMMERFORD v NIEDER v PERKINS, LLC
APPRAISAL AND ASSESSMENT SERVICES
News Release
Town of Danbury – 2022-2026 Full Revaluation
Beginning this year, the Town of Danbury has contracted with the assessing firm of Commerford Nieder Perkins, LLC to begin a five-year revaluation of property. They will be visiting all of the properties in the town, but will do so in sections. The Maps to be visited are as follows:
2022: Maps 401 thru 408
2023: Maps 413 thru 418
2024: Maps 201, 409 & 410
2025: Maps 411 & 412
The Assessors will adhere to the following guidelines during the revaluation process:
Over the first four years of this revaluation project, the assessing firm will visit every property in Town to measure the exterior of buildings and attempt to obtain interior information, if applicable. The firm's Assessor will be wearing identification and have a current property record card with them. Because of the continuing issues regarding COVID19, the physical interior inspection part of this process is on hold, however, they will do the inspection if both parties are comfortable with doing so. A mask can be worn by the Assessor if needed. In most cases, the total time for the interior inspection should not exceed 10 minutes. No property will be entered unless there is someone at least 18 years of age at home at the time of the visit.
If a physical inspection is not performed, the Assessor may collect the information by asking questions of the property owner. They will be looking for information such as, but not limited to, the following: quality of construction, year built, functional utility, condition, number of bedrooms, number of bathrooms, type of floors, type of interior walls, and type of heat, etc. If the property owner has information about the property that may not be apparent to the appraiser, such as seasonally wet basements, cracks in foundations, and leaking roofs, they are encouraged to provide that type of information.
If the property owner is not home, the Assessor will leave a notice stating that they visited the property and measured the buildings. The notice will also indicate that the property owner will receive a letter in the future informing them of the dates and times in which property owners can make appointments for an interior inspection, or in this current situation make an appointment to review the information over the phone.
All information collected that needs to be corrected will be entered into the Town's CAMA software each year. If a property is posted as no trespassing or gated the Assessors will attempt to contact the property owner for permission to enter onto the property.
Completing the Revaluation Process
When all inspections are completed by the end of 2025, the Assessor Supervisor will, in 2026, set values based on recent sales of properties in town. In late September of 2026, property owners will be notified by letter of their new value(s), and lists of all values will be posted at the town. After values have been set, property owners are encouraged to schedule an appointment with the Assessors to discuss their values. The dates, times and places of these appointments will be included in the notification letter.
When the informal review process is complete, values will be finalized and given to the town. Subsequent tax bills will be based on these new values and a new tax rate. When the final tax bill is received by the property owner, if the property owner disagrees with their new value, they may file an abatement request, to the Board of Selectmen, on or before March 1st of the following year.
2022 1st Issue Property Tax Bills Have Been Mailed
1st half 2022 property tax bills were mailed out on May 27.
PAYMENT DUE DATE IS JULY 1ST.
Payments can be made in person at the Town Hall(23 High Street)during regular tax collector hours, by mail, by drop box or online.
CLICK HERE to pay online
Call 603 768-5448 with any questions.
UNTIL FURTHER NOTICE
The Danbury Transfer Station will not be taking any brush.
Danbury Zoning Board of Adjustment Open Position
There are (2) open positions on the Danbury Zoning Board of Adjustment. These appointed position will expire in March 2023. Please submit letters of interest to:
---
Danbury ZBA
23 High Street
Danbury, NH 03230
---
You must be a Danbury resident to serve on the Danbury ZBA.
The Danbury Zoning Board of Adjustments will accept letters of interest until June 30, 2022.
BURN PERMITS REQUIRED!
Effective March 24, 2022, burn permits will be required for the 2022 season per Forest Fire Warden.
Permits may be obtained through the state online permit system. Click the link below to be taken to the NH Online Fire Permitting site:
A printer and a credit card are needed as permits must be printed and signed to be valid. The permits are $5.50 each(payment fee for the vendor).
You must have a permit and may obtain it online. If you cannot access this system or do not wish to pay the fee, you may obtain a permit by:
Contacting Forest Fire Warden Jacob Moran at (603)491-0121 or Issuing Agent Merton Austin at (603) 768-3677. Other Deputy Wardens that may issue permits are: Joshua Hatch and Jeremy Martin.
BURN PERMITS FROM WARDEN, DEPUTIES, OR ISSUING AGENTS WILL NOT BE ISSUED AFTER 8:00PM(arrangements should be made to get your permit before 8pm. If you need a permit after 8pm you MUST obtain it through the online system.)
MARCH 8, 2022 ELECTION RESULTS
2021 ANNUAL TOWN REPORT IS NOW AVAILABLE
The 2021 Tax Rate is $18.00/$1000 Assessed Valuation
For more information follow this link

Danbury was not an original colonial grant, but was formed from part of the town of Alexandria to the north. In 1794, a group of Alexandria residents petitioned the state legislature to separate Alexandria into two towns due to the inconvenience of having a mountain divide the town, making it difficult for all the residents to gather in a single place.
The petition was granted in 1795, and the lower piece was incorporated as Danbury in that year. The name was suggested by a settler from Danbury, Connecticut. Later more land was added to Danbury from Hill and Wilmot.
In 1800 there were 165 people in Danbury, which on July 10, 1874 was transferred from Grafton County to Merrimack County. Today there are close to 1,300 people in Danbury.