The Board of Selectmen will meet on Wednesday, October 5, 2022 at 6pm.
The Board of Selectmen meet the 1st and 3rd Wednesday of the month at 6pm, 23 High St. Meetings are open to the public.
Town Clerk/Tax Collector hours 768-5448
Monday
12-6
Tuesday
12-7
Wednesday
11-6
Thursday
9-3
Friday
Closed
3rd Sat of Month
9-12
TOWN CLERK & TAX COLLECTOR SERVICES NOW AVAILABLE ONLINE
---
Payments can be made online with a checking account.
Board of Selectmen, Budget Committee & Planning Board Minutes
Calendar
1975 International 200 Utility Body Emergency Vehicle
Year: 1975
Make: International
Model: 200
Body Style: Utility Body Emergency Vehicle
VIN/SN: E0350EHB14268
Odometer Numbers: 6117
Engine Make/Model: International
Cyl: 8
Fuel Type: Gas
Transmission Model: 4 Speed
Transmission Type: Manual
Single Axle/Dual Axle: Single
Tire Size/Type: 7.50-16 front and rear
Tire Condition: Good
Drivetrain: 4WD
Does the unit operate?: Yes
Does the vehicle start?: Yes
Are keys available?: Yes
Ownership Documents: Bill of Sale Only
Mechanical Condition: Good
Mechanical Notes: Original carburetor has been replaced.
Body Condition: Good
Body Notes: 2 minor rust spots shown in pictures otherwise body is in good condition. Undercarriage and frame in good condition.
Interior Condition: Good
Misc Info: Stored inside Fire Station for most of vehicles life. Recently taken out of service for sale.
GVWR: Max 10000
Titled: No
**************************************************************
This vehicle is being sold on the Auctions International website. Please follow this link if interested
https://www.auctionsinternational.com/auction/30211/item/town-of-danbury-nh-30211-187616
2022 DANBURY PRIMARY ELECTION RESULTS
The 2022 NH State Primary Election Results for Danbury
POLICE CHIEF APPOINTMENT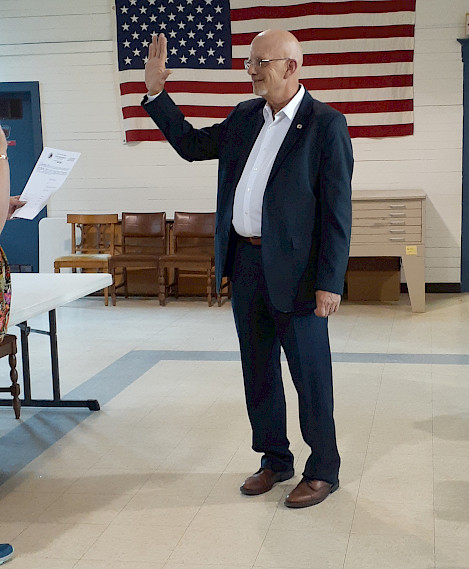 The Danbury Board of Selectmen is pleased to announce the appointment of Christopher Warn as the
Town's new part time Police Chief. Chief Warn was sworn in on Tuesday, July 26, 2022, by Board Chair,
Jessica Hatch.
With approximately 40 years of experience working in New Hampshire law enforcement,
Chief Warn brings a uniquely diverse background that bridges public service, criminal justice, and
education as a veteran police chief, investigator, prosecutor, and educator.
He served as Police Chief in Campton, New Hampshire for 21 years before his retirement in 2020.
In addition to his experience as a police officer and police chief, Chief Warn is currently a teaching lecturer at Plymouth State College and has taught classes at New Hampshire Police Standards and Training.
"I am humbled and honored by the Board's decision to entrust me with this awesome responsibility," said Chief Warn. " I look forward to meeting the residents, visitors and working with Sgt. Marvin and Administrative Assistant Huntoon."
Chief Warn replaces long time Chief David Suckling whose elected term expired on March 13, 2022.
Danbury Zoning Board of Adjustment Open Position
There are (2) open positions on the Danbury Zoning Board of Adjustment. These appointed position will expire in March 2023. Please submit letters of interest to:
---
Danbury ZBA
23 High Street
Danbury, NH 03230
---
You must be a Danbury resident to serve on the Danbury ZBA.
The Danbury Zoning Board of Adjustments will accept letters of interest until June 30, 2022.
BURN PERMITS REQUIRED!
Effective March 24, 2022, burn permits will be required for the 2022 season per Forest Fire Warden.
Permits may be obtained through the state online permit system. Click the link below to be taken to the NH Online Fire Permitting site:
A printer and a credit card are needed as permits must be printed and signed to be valid. The permits are $5.50 each(payment fee for the vendor).
You must have a permit and may obtain it online. If you cannot access this system or do not wish to pay the fee, you may obtain a permit by:
Contacting Forest Fire Warden Jacob Moran at (603)491-0121 or Issuing Agent Merton Austin at (603) 768-3677. Other Deputy Wardens that may issue permits are: Joshua Hatch and Jeremy Martin.
BURN PERMITS FROM WARDEN, DEPUTIES, OR ISSUING AGENTS WILL NOT BE ISSUED AFTER 8:00PM(arrangements should be made to get your permit before 8pm. If you need a permit after 8pm you MUST obtain it through the online system.)
MARCH 8, 2022 ELECTION RESULTS
2021 ANNUAL TOWN REPORT IS NOW AVAILABLE
The 2021 Tax Rate is $18.00/$1000 Assessed Valuation
For more information follow this link

Danbury was not an original colonial grant, but was formed from part of the town of Alexandria to the north. In 1794, a group of Alexandria residents petitioned the state legislature to separate Alexandria into two towns due to the inconvenience of having a mountain divide the town, making it difficult for all the residents to gather in a single place.
The petition was granted in 1795, and the lower piece was incorporated as Danbury in that year. The name was suggested by a settler from Danbury, Connecticut. Later more land was added to Danbury from Hill and Wilmot.
In 1800 there were 165 people in Danbury, which on July 10, 1874 was transferred from Grafton County to Merrimack County. Today there are close to 1,300 people in Danbury.