BUDGET COMMITTEE MEETING DATES
Meeting Dates for 2024 Budget Season/All meetings at 6:30pm
November 2, November 9, November 16 and November 30
December 7, December 14 and December 21
January 11 - Budget Hearing
THE SAFETY SERVICES BUILDING COMMITTEE WILL MEET ON THE 2nd THURSDAY OF THE MONTH
AT 7PM
DANBURY FIRE STATION
10 NORTH ROAD
TOWN CLERK & TAX COLLECTOR SERVICES NOW AVAILABLE ONLINE
---
Payments can be made online with a checking account.
The Board of Selectmen meet the 1st and 3rd Wednesday of the month at 6pm, 23 High St. Meetings are open to the public.
The next meeting will be October 4, 2023 at 6pm
603 768-3313
Town Clerk/Tax Collector hours 768-5448
Monday
12-6
Tuesday
12-7
Wednesday
11-6
Thursday
9-3
Friday
Closed
4th Sat of Month
9-12
2022 ANNUAL TOWN REPORTS ARE AVAILABLE AT THE TOWN HALL AND THE DANBURY COUNTRY STORE. YOU CAN ALSO CLICK ON THE PHOTO BELOW FOR A PDF VERSION OF THE REPORT.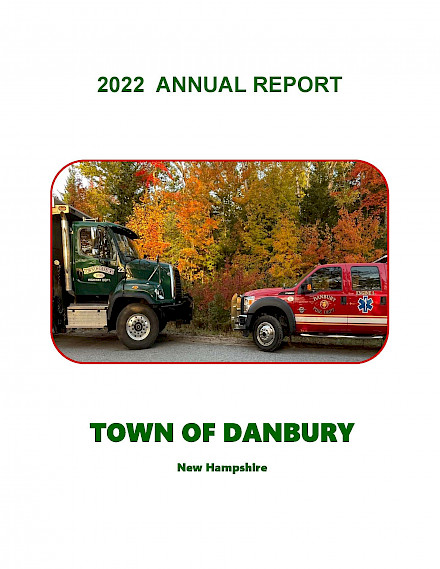 Board of Selectmen, Budget Committee & Planning Board Minutes
Calendar
SELECTMEN'S OFFICE WILL BE CLOSED TUESDAY 9/26
SUPERVISORS OF THE CHECKLIST MEETING 10/6
The Supervisors of the Checklist for the Town of Danbury, NH, will be in session on Friday October 6, 2023, from 7-7:30pm at the Danbury Town Hall located at 23 High Street, to accept voter registrations, corrections to the checklist, and to conduct business as required.
October 6th is the last time registered voters may change their party affiliation prior to the Presidential Primary. New voters may continue to register until election day, as permitted by law.
ZBA PUBLIC HEARING - continued to 10/17 at 7pm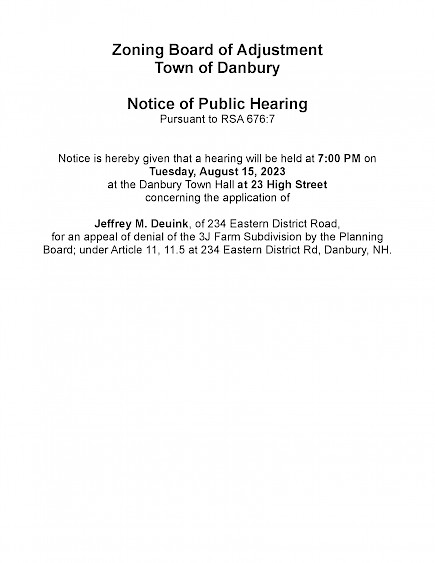 The Danbury Zoning Board of Adjustment will hold a
public hearing on the application of Jeffrey Deuink for an
appeal of an administrative decision on Tuesday,
August 15, 2023 at 7pm in the Danbury Town Hall.
FULL-TIME POSITION/ADMINISTRATIVE ASSISTANT TO THE BOARD OF SELECTMEN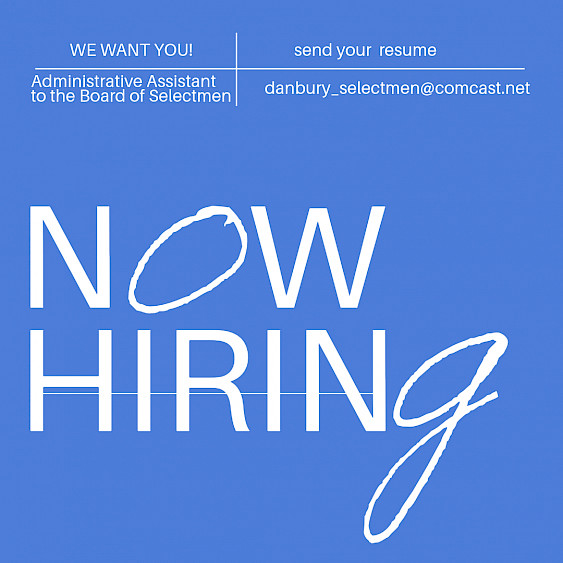 The Town of Danbury is accepting applications for a full-time Administrative Assistant to the Board of Selectmen.
The successful applicant is a detail-oriented individual with bookkeeping, payroll, and accounts payable experience. Knowledge of local government is a plus. Computer skills, including Microsoft Office/Word and Excel, QuickBooks are required.
The candidate must be self-motivated, personable, able to multi-task, attend to details and maintain confidentiality.
Send cover letter, resume and completed employment application
(can be found at www.townofdanburynh.com/resources/forms/) to
Selectmen's Office
23 High Street
Danbury, NH 03230 or
THE ZONING BOARD OF ADJUSTMENT OPEN POSITION
The ZBA currently has an opening. Send a letter of inquiry by September 30, 2023 to
Zoning Board of Adjustments
23 High St
Danbury, NH 03230
if interested.
You must be a Danbury Resident and Registered Voter to apply.
PART-TIME POLICE CHIEF
The Town of Danbury is seeking a people oriented, part time police chief to manage our Police Department for 25+/- hours per week. The Police Chief reports directly to a 3-member Selectboard.
Qualifications should include a minimum of 2-4 years police experience with at least 2 years at a supervisor or management level and a New Hampshire Police Standards and Training Full or Part-Time certification. Must pass state physical exam, physical agility test and background investigation. Excellent personal and communications skills required.
Interested candidates should submit resume to:
Danbury Selectmen's Office
23 High Street
Danbury, NH 03230
danbury_selectmen@comcast.net
BURN PERMITS REQUIRED!
Effective March 24, 2022, burn permits will be required for the 2022 season per Forest Fire Warden.
Permits may be obtained through the state online permit system. Click the link below to be taken to the NH Online Fire Permitting site:
A printer and a credit card are needed as permits must be printed and signed to be valid. The permits are $5.50 each(payment fee for the vendor).
You must have a permit and may obtain it online. If you cannot access this system or do not wish to pay the fee, you may obtain a permit by:
Contacting Forest Fire Warden Jacob Moran at (603)491-0121 or Issuing Agent Merton Austin at (603) 768-3677. Other Deputy Wardens that may issue permits are: Joshua Hatch and Jeremy Martin.
BURN PERMITS FROM WARDEN, DEPUTIES, OR ISSUING AGENTS WILL NOT BE ISSUED AFTER 8:00PM(arrangements should be made to get your permit before 8pm. If you need a permit after 8pm you MUST obtain it through the online system.)
2022 TAX RATE SET AT $17.50

The Department of Revenue Administration has certified Danbury's property tax rate for 2022 at $17.50 per $1,000 of assessed value. This is a 50 cent decrease from the 2021 rate of $18.00.
The decrease in the rate is partially due to an increase in unanticipated revenues. The Board of Selectmen sold 3 properties at auction this fall and also sold the 1975 International Fire Truck, adding to the revenue side of the tax rate calculation. State revenues to the Town also increased.
In addition, the Board of Selectmen, understanding the economic inflation residents are facing, decided to use a significant part of the undesignated fund balance to reduce the rate further.
The breakdown of the rate is as follows:
| | | | | | | |
| --- | --- | --- | --- | --- | --- | --- |
| | | 2022 Tax Rate | | 2021 Tax Rate | | Difference |
| Municipal | | 4.54 | | 4.96 | | -0.42 |
| County | | 2.02 | | 1.98 | | 0.04 |
| Local Education | | 9.89 | | 9.59 | | 0.30 |
| State Education | | 1.05 | | 1.47 | | -0.42 |
| | | | | | | |
| TOTAL $$$ | | 17.50 | | 18.00 | | -0.50 |
The Tax Collector is preparing the property tax bills with a due date of December 7. If you do not receive your tax bill in the mail, please contact the Tax Collector Tricia Taylor at danburyclerk@comcast.net
PUBLIC NOTICE
In accordance with NH RSA 79:10-1(b) the Board of Selectmen is in receipt of a Notice of Intent to Cut Wood or Timber, on
Map 415, Lot 071
106 Frazier Road
Owner: Society for Protection of New Hampshire Forests
and intend to review and sign the Intent within the next 15 days.
Posted: 08-29-23 (Website, Town Hall Bulletin Board)

Danbury was not an original colonial grant, but was formed from part of the town of Alexandria to the north. In 1794, a group of Alexandria residents petitioned the state legislature to separate Alexandria into two towns due to the inconvenience of having a mountain divide the town, making it difficult for all the residents to gather in a single place.
The petition was granted in 1795, and the lower piece was incorporated as Danbury in that year. The name was suggested by a settler from Danbury, Connecticut. Later more land was added to Danbury from Hill and Wilmot.
In 1800 there were 165 people in Danbury, which on July 10, 1874 was transferred from Grafton County to Merrimack County. Today there are close to 1,300 people in Danbury.