The Danbury Budget Committee will hold an organizational meeting on Thursday, March 23 at 7:00pm Danbury Town Hall
THE SAFETY SERVICES BUILDING COMMITTEE WILL MEET ON THE 3RD THURSDAY OF THE MONTH
AT 7PM
DANBURY TOWN HALL
2022 ANNUAL TOWN REPORTS ARE AVAILABLE AT THE TOWN HALL AND THE DANBURY COUNTRY STORE. YOU CAN ALSO CLICK ON THE PHOTO BELOW FOR A PDF VERSION OF THE REPORT.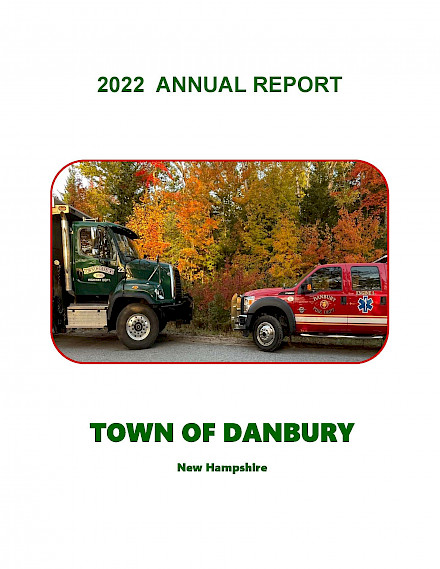 TOWN CLERK & TAX COLLECTOR SERVICES NOW AVAILABLE ONLINE
---
Payments can be made online with a checking account.
The Board of Selectmen meet the 1st and 3rd Wednesday of the month at 6pm, 23 High St. Meetings are open to the public.
The next meeting will be March 29, 2023 at 6pm
Town Clerk/Tax Collector hours 768-5448
Monday
12-6
Tuesday
12-7
Wednesday
11-6
Thursday
9-3
Friday
Closed
3rd Sat of Month
9-12
Board of Selectmen, Budget Committee & Planning Board Minutes
Calendar
PART TIME POLICE OFFICERS
PART-TIME POLICE OFFICERS WANTED
The Danbury, NH Police Department is currently accepting applications or resumes for Part-Time Officers. Danbury, population 1,250, is a part-time police agency that is supplemented by the NH State Police and is located north of Andover and south of Alexandria and Grafton in Merrimack County. Minimum qualifications for the positions include honesty, integrity, and a positive work ethic. Applicants also are required to have a high school diploma and US Citizenship and meet certain physical and psychological fitness standards as required by New Hampshire Police Standards and Training Council.
NH police certification is preferred, although current out-of-state certification may be considered. Danbury is not a participating member of the NH Retirement System.
If interested in learning more, please contact Chief Christopher Warn at (603) 768-5568 or danburynhchief@gmail.com. Current hourly rate is $22 to $25 per hour.
The Town of Danbury is an Equal Opportunity Employer.
2022 TAX RATE SET AT $17.50

The Department of Revenue Administration has certified Danbury's property tax rate for 2022 at $17.50 per $1,000 of assessed value. This is a 50 cent decrease from the 2021 rate of $18.00.
The decrease in the rate is partially due to an increase in unanticipated revenues. The Board of Selectmen sold 3 properties at auction this fall and also sold the 1975 International Fire Truck, adding to the revenue side of the tax rate calculation. State revenues to the Town also increased.
In addition, the Board of Selectmen, understanding the economic inflation residents are facing, decided to use a significant part of the undesignated fund balance to reduce the rate further.
The breakdown of the rate is as follows:
| | | | | | | |
| --- | --- | --- | --- | --- | --- | --- |
| | | 2022 Tax Rate | | 2021 Tax Rate | | Difference |
| Municipal | | 4.54 | | 4.96 | | -0.42 |
| County | | 2.02 | | 1.98 | | 0.04 |
| Local Education | | 9.89 | | 9.59 | | 0.30 |
| State Education | | 1.05 | | 1.47 | | -0.42 |
| | | | | | | |
| TOTAL $$$ | | 17.50 | | 18.00 | | -0.50 |
The Tax Collector is preparing the property tax bills with a due date of December 7. If you do not receive your tax bill in the mail, please contact the Tax Collector Tricia Taylor at danburyclerk@comcast.net
BURN PERMITS REQUIRED!
Effective March 24, 2022, burn permits will be required for the 2022 season per Forest Fire Warden.
Permits may be obtained through the state online permit system. Click the link below to be taken to the NH Online Fire Permitting site:
A printer and a credit card are needed as permits must be printed and signed to be valid. The permits are $5.50 each(payment fee for the vendor).
You must have a permit and may obtain it online. If you cannot access this system or do not wish to pay the fee, you may obtain a permit by:
Contacting Forest Fire Warden Jacob Moran at (603)491-0121 or Issuing Agent Merton Austin at (603) 768-3677. Other Deputy Wardens that may issue permits are: Joshua Hatch and Jeremy Martin.
BURN PERMITS FROM WARDEN, DEPUTIES, OR ISSUING AGENTS WILL NOT BE ISSUED AFTER 8:00PM(arrangements should be made to get your permit before 8pm. If you need a permit after 8pm you MUST obtain it through the online system.)
WINTER SAND POLICY
---
THE DANBURY BOARD OF SELECTMEN HAS ADOPTED THE FOLLOWING POLICY WITH REGARDS TO WINTER SAND USE BY DANBURY RESIDENTS AND TAX PAYERS.
The intent is to provide residents and tax payers with winter sand for use at their residence on driveways and walkways. The sand is available for private use only. Residents with long driveways are advised to hire private contractors .Accordingly, this sand is not intended for commercial entities or businesses such as landscapers, snow removal contractors or property maintenance businesses.
Winter sand is available at the Transfer Station when it is open, 8 am - 4 pm Tuesdays and Saturdays. Please plan ahead for your winter sand needs.
Winter sand can be shoveled into and removed by pails. A maximum of (4) 5 gallon buckets is allowed per day. Shoveling into truck beds, sanders or other large containers is not allowed.
Removal of sand by residents at the Highway Garage is prohibited.
Failure to comply with these rules will result in the loss of access to the winter sand area.
Thank you for your help in keeping costs down and controlling this operation so that it works well for all of us.
THIS POLICY ADOPTED ON DECEMBER 11, 2019 BY UNANIMOUS VOTE OF THE DANBURY BOARD OF SELECTMEN.

Danbury was not an original colonial grant, but was formed from part of the town of Alexandria to the north. In 1794, a group of Alexandria residents petitioned the state legislature to separate Alexandria into two towns due to the inconvenience of having a mountain divide the town, making it difficult for all the residents to gather in a single place.
The petition was granted in 1795, and the lower piece was incorporated as Danbury in that year. The name was suggested by a settler from Danbury, Connecticut. Later more land was added to Danbury from Hill and Wilmot.
In 1800 there were 165 people in Danbury, which on July 10, 1874 was transferred from Grafton County to Merrimack County. Today there are close to 1,300 people in Danbury.